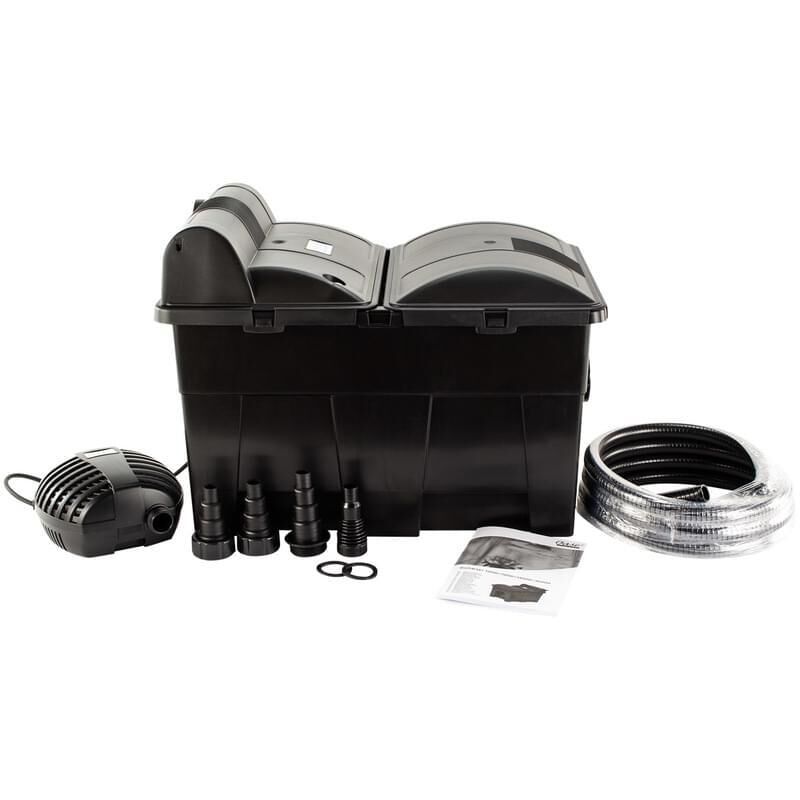 The Oase Biosmart 14000 has several advantages over other filter systems on the market. The biggest advantage is the larger biological filter capacity. Thanks to its large capacity and six high-value filter mousses, you are therefore assured
Only 2 available
Packed & shipped today! 1-7 Days
Product number:
OASE_50451
Our benefits
Shipping within 24h

30 days money back guarantee

Expert advice
You get 368 bonus points for this order
Product information "BioSmart Set 14000"
The Oase Biosmart 14000 has several advantages over other filter systems on the market. The biggest advantage is the larger biological filter capacity. Thanks to its large capacity and six high-performance filter mousses, you are therefore guaranteed a healthy and clear pond. This reliable filter capacity combined with very easy maintenance explains its enormous popularity. With your purchase you will also receive an energy-efficient (70 watt) Oase filter pump (3400 l/h) and three meters of pond hose.
Oase Biosmart 14000: Filtration
The Oase Biosmart 14000 is equipped with six high-quality filter mousses. In these different mousses the harmful substances such as ammonia and nitrite are converted into harmless substances. Also, these mousses have a mechanical function in which coarse and fine dirt particles are removed from the water.
Including UV-C unit
The Oase Biosmart 14000 comes standard with 11 watt UV lamp. Thanks to this UV water treatment floating algae, the cause of green murky water, are eliminated. Also, any germs are addressed. It is recommended to replace the UV lamp every year in spring.
Including pond pump and hose
The Oase Biosmart 14000 comes standard with Oase filter pump (3400 liters per hour), three meters of pond hose and hose clamps. Because everything is optimally matched, you not only benefit from set advantage but are also assured of the most efficient filter set.
Specifications
Natural Pond Capacity: 10,000 - 20,000
Fish Pond Capacity: 6,000 - 12,000
Pool Pond Capacity: 3,000 - 6,000
Max. Capacity: 3,400 l/h
Wattage Pump: 70 watts
Wattage UVC: 14 watts
Suction connection: 19 mm, 25 mm, 32 mm, 40 mm
Press connection: 50 mm / Dirt outlet: 50 mm
Cable length Pump: 10 meters
Cable length UVC: 3 meters
More articles from Oase to look at